Aplestia



Witch Hunt


Little Hearts


Final Battle



Asguaard


Witch Hunt


The Book of Legends


Moonchild


Elendia Ceus


Little Hearts


YOU and who else?


A Timely Intervention


The Tale of a Common Man


Undefeated


3 Stars of Destiny


Laxius Force III


Laxius Force II


Laxius Force


Millennium 5


Millennium 4


Millennium 3


Millennium 2


Millennium


Dreamscape


Sylia


Opaline


Onyx


Girlfriend Rescue

ALDORLEA MAGAZINE - JAN. 25, 2011

AN INTERVIEW WITH OVER CLOUD 9!

I have just finished playing Arevan, and must say, I was totally delighted with it. It particularly amazes me that this is her first commercial production. I'm sure we are all looking forward to enjoying many more of her creations, and we would all love to learn a bit more about her! So, Overcloud has graciously agreed to spend a few minutes telling us a bit about herself!

Titaness:
First, I'm dying to know, what was the inspiration for your name? Here in America, there is a colloquialism "floating on cloud 9" which refers to a supreme feeling of contentment and joy. Is Over Cloud 9 derived from that?

Overcloud:
Actually, I would have chosen 'Day_dreamer" as my user name, but then it had become too common. I wanted a name that would reflect a dreamy, ethereal feeling. I know the usual connotation of the term 'over cloud 9' like you described. But, my purpose was to imagine a place which is higher than the highest heights (both in terms of altitude or contentment). Cloud 9 means the summit of all clouds literally, so something that is over that is completely out of the world. So that is how over cloud 9 was born.

Titaness:
That is a wonderful way to choose a name, and it fits you perfectly! Now, may I ask, how long did the creation of Arevan take? I've heard from others that they actually spent years working on their first production, and it was changed many times before finally being ready.

Over Cloud:
Arevan was developed really fast, in 5 months. It would have taken lesser time, but some unexpected circumstances delayed it. The point was to create a deep story that gives players a food for thought. One that is not stretched...but one which is short yet power packed with some food for thought. The characters, both the heroes and the villains were not ordinary good and bad types, they had complicated personalities. The entire stress has been more on the story than anything else. About the time taken to get the game done, it was possible to make it quickly, because it was shorter than usual RPGs.

Titaness:
Actually, I thought it was a nicely sized game... It took me about 20 hours, and left me longing for more, which is certainly not a bad thing! When did you first decide to be a game maker? Was it a childhood dream? And, was there a particular game that so "moved" you that you decided to try doing it yourself?

Over Cloud:
Honestly speaking, making games wasn't quite driven by passions, but rather business needs... lol. I never imagined that I would be making games until I started making one. Stories in all the RPGs I have played so far, were really an inspiration to get into game making. I was happy writing walkthroughs, until I found that I have another latent capability which I could exploit - story writing and game designing. I personally think, a game is the single best possible manifestation of all forms of art, because here you get to put graphical art, musical art, literature (the story/theme), and game design (the art of putting all artwork together, ;) all in one single thing, apart from the technology which breathes life into it. So, a game is basically the compound art formed of many artistic elements (forgive my affinity to scientific definitions +:oops: ).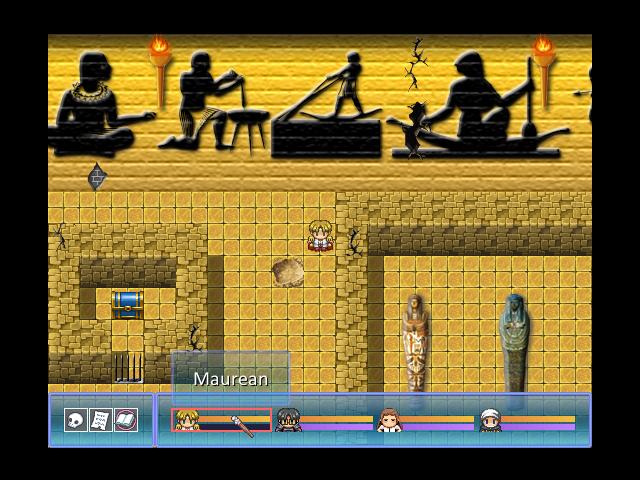 Titaness:
Very beautifully expressed, Over Cloud! Next, is game making a "sideline" for you, or do you intend to make this your career? If not, we'd love to know what sort of goals you have for your future employment. Or, for that matter, are you presently working in a particular area of interest?

Over Cloud:
I'm quite serious about game making, and my business in general. I even left my job last year for that :) . I don't want to be just another game developer, which is why I'm shifting to Bangalore next month to learn hands on 3D gaming, and work jointly on future game projects. I want to make fewer number of games each year, but each should be a noteworthy piece in itself. Not that I'm too focused on creativity that I'd miss the business aspect of it. But, its just that I want to stretch myself to my limits, and get the most out of what I can do, and prove it by my work.
When I started Over Cloud 9, I started from scratch - no experience in the gaming sector, no knowledge or training in games, no one to back me up or help me, no idea of doing business.. I mean I was just a novice. Whatever I have now, is the outcome of my unrelenting research and improvement of the existing base. I was always a day dreamer and a sort of an idealist, and I knew no matter what I do, it will always be driven by my passion to make it the best. So here I am, driven to sway players with deep and complicated plots, breath taking graphics, and mesmerizing music.... though I still think as a game maker I have a long way to go.

Titaness:
Wow, now I am truly excited to see what you'll have for us in the future!! Have you been inspired by any other game makers? I know you are a member of the Aldorlea community, so would assume you have played all of those wonderful games. Did Indinera's "Tricksterly" ways influence your own creation of challenging puzzles?

Over Cloud:
LOL, I think all the game makers I know are my inspirations to make a career out of game making. I have a soft corner for Indy's websites coz Laxius Force was the first community where I actively participated, when I first came to know about RPGs. Elder Prince's game made me write my first walkthrough, and that was the point from which my life started to change. So, I have a soft spot for BlossomSoft as well. I derived inspirations of the puzzle from Elder's creations, and another RPG called Master of The Wind. Apart from that, Rifle100 has been awesome in her suggestions when it came to unique puzzles like the football, or some tweaks in the story. Game devs like Indy, Daniel, Sharon Hanlon, Amanda, Eridani, and Elder Prince gave me 'wowmazing' support when I sought their advice or suggestions. I have no words to describe what they mean to me....

Titaness:
Yep, you are indeed amongst a talented bunch of creative minds!! I've heard more than a few say "wish I had a Strategy Guide". As we all know, you are the master "walk through" expert. Any chance you will be considering releasing them with your games in the future, as it does seem to be becoming more popular to offer one with the games.

Over Cloud:
I have been contemplating getting some serious walkthrough writers for my website, as I can't manage to fulfill all the walkthrough requests alone all by myself. It's difficult getting writers who are committed to gaming, and with sufficient time on their hands. My search is on, let's see what I can do about it.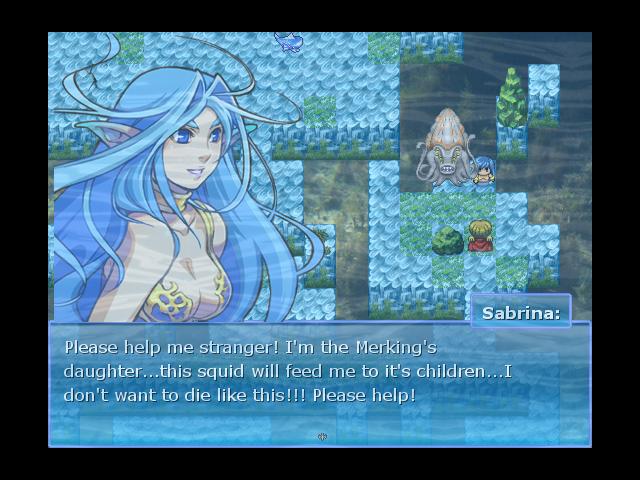 Titaness:
Do you write your own story lines, or is there someone else who does that? Are there more stories you already have in mind for the future?

Over Cloud:
I like writing my own stories, coz I love incorporating depth and thought in them. A good story is the heart of an RPG, so I take immense care to get the best one. Story writing is at its best only when the creative frenzy flashes across....for me at least. +::biggrin That is why I don't keep thinking of newer stories easily, as each character, each plot, has to have a good understanding of why and how things are going to happen, and add depth to it. Currently, my creativity tank is drained and empty :)
It will take some time for me to think of some thought provoking story, again. However, to keep up with the timeline and flow of game development business in general, probably I shall be taking a story from one of my friends in my next commercial project, who is very much interested in game making. We are working on it together, but it will take some time.

Titaness:
And most importantly, will there be an Arevan sequel on the horizon in the near future??? Please, please, please.......say yes. We are all eagerly awaiting it!!

Over Cloud:
Yes..but I will take time...and will probably get done after I get another one or two different game done in between. I want to carefully think of the story and make it deep instead of getting something done in a jiffy to keep it up as its sequel. I like doing one thing at a time to give it my best shot ;) LOL, I really want players who loved Arevan to patiently allow me this much time at least to get the best of it.

Titaness:
HEHEHE....Well, I'll try to contain myself, but it won't be easy!! Finally, is there anything about you that you would like to share with your rapidly increasing fans? What are your motivations and dreams for the future as an Indie game creator?

Over Cloud:
LOL, if you give me a chance to speak, I will probably make you doze off, while I'd keep talking about myself :) . In short, if you have followed through my answers to your previous questions, you would have got a brief idea of what you wanted to know. I'd rather define 'day dreaming' as my passion, as it is my 'dreams' which have kept my life flowing in a direction where I wanted it to go....in spite of all the problems and obstacles that had cropped up from time to time. Like I said, I love giving my 100% to what I do, and my motivation comes from how the player is able to connect themselves with my work. Instead of revealing my plans of future, let me implement them and prove my dreams. ;)

Titaness:
Now that is an excellent idea, Over Cloud! Bring your dreams to us, so that we may share the "dreams" with you! It has been a pleasure getting to know you better! You are an inspiration to me, personally, as well as all those who are enthralled by this wonderful genre! We look forward to watching you grow and develop even further into one of the great game makers of the future!

Titaness


... I am new on Aldorlea...





TOP 5 - YEAR 2017
Most Popular Games

#1



Little Hearts
#2


Witch Hunt
#3


The Deal
#4


Asguaard
#5


The King's Heroes

Coming Soon
on Aldorlea

Laxius S
Legend
Where Are We?